Helping drivers get back on the road safely
Anxiety about driving or even being in a vehicle is far too common, especially after a crash. We are here to help guide you back to driving safely and confidently.
Driving anxiety can range from feeling a bit nervous about a specific location or situation like going over a bridge or through a tunnel to experiencing debilitating symptoms of anxiety and stress, including:
Increased heart rate or feeling shaky inside
Sweaty palms
Feeling abnormally hot or cold
Tight chest or clenching hands
Rounding your shoulders or pulling them up towards your ears
Rapid breathing or difficulty taking a full breath
Repetitive or intrusive thoughts that are hard to stop
Wanting to cry or feeling angry and frustrated
And for some, the distress they feel in their mind and body is so great they can't even get in a vehicle!
For drivers and passengers, anxiety can show up as avoidance, control or distraction with behaviours like:
Not driving on the highway or specific routes, no matter how inconvenient
Not attending social events or seeing family and friends if you have to drive
Telling the driver what to do or blaming the driver for your fears
Playing on your phone so you don't notice what is happening around you
Regardless of the reason for your anxiety or what it looks like, help is available. We have a comprehensive, evidence-based process tailored to your needs.
*If your anxiety is the result of a crash, you may be covered as part of your insurance claim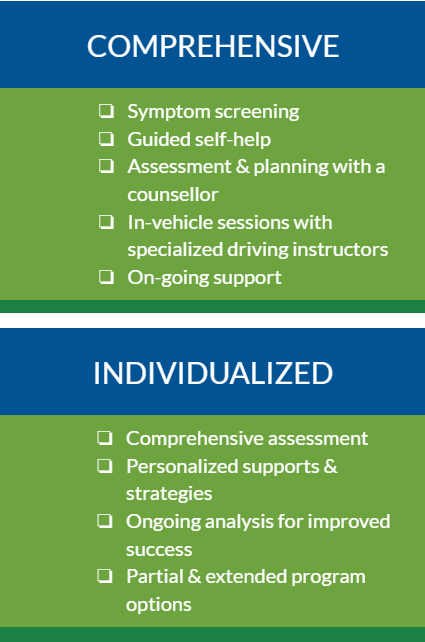 Ready to get back to driving?
1-888-475-4666
Our team of professionals will help you understand and manage your anxiety related to driving. We give you the tools to become a more confident, calmer and safer driver so that you can get back to living your life more fully.
---
LOCATIONS
We offer services throughout BC with online assessment and planning and driving instructors in major municipalities and regions like:
Vancouver
Victoria
Kamloops
Kelowna
Fraser Valley
Contact us about services in your area.
---
Medical Professionals
To refer a client to the Driving Anxiety Program, please use the Online Referral Form or contact us for more information.